Life of St. Pius X
Index - 1 - 2 - 3 - 4 - 5 - 6 - 7 - 8 - 9
Translation by Nausica Bonaldo
CANON IN TREVISO (November 1875- November 1884)
He was nearly 40 years old when he first celebrated the mass as a canon, on the first Advent Sunday, the 28th November 1875.
He was elected by the bishop Zinelli and operated in the cathedral, in the curia and in the seminary, but he didn't disregarded the Catholic Movement of Treviso, that had just started; it had given impulse since 1892 to the catholic Rural Fund, together with the periodicals "L'Eco del Sile" (1878-82) and "Il Sile" (1883-1885), that had been united to "La Vita del Popolo" (founded in 1892).
He was mainly episcopal chancellor, spiritual director of the seminary and residential canon: Marchesan put in evidence his presence as councillor in the Ecclesiastical Court and as examiner.
When he was in Treviso, he became immersed in the canonical right and he knew all the problems of the seminary.
He was sought as preacher; as catechist he put into action all the experiences he had in Tombolo and Salzano (in fact he took with him two books written in Salzano) and within the liturgical framework he continued to keep up-to-date, above all the holy music (in 1882 he took part in the century-old of the monk in Arezzo).
He was esteemed by his brothers and as reward he was elected first priest of the chapter on 12th June 1879 and after bishop Zinelli died, he became Vicar of the Chapter: he ran 210 parishes and about 350.000 believers of the diocese between 27th November 1879 and 26th June 1880.
During these nine years of service to the Church of Treviso he served three bishops: Federico Maria Zinelli between 1875 and 1879, Giuseppe Callegari from 1880 to 1883 and Giuseppe Apollonio between 1883 and 1884. In September 1884 he was elected bishop in Mantova and on 16th November 1884 he was consecrated bishop in Rome by the cardinal Lucido Maria Parocchi (Mantova, 1883-Roma, 1901), Leone XIII's vicar for Rome, in the Church St. Apollinare.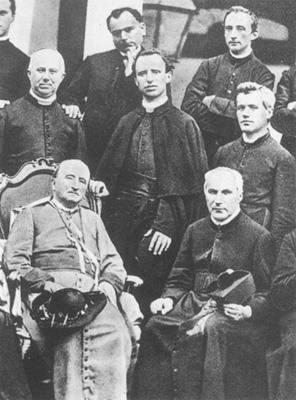 Father Giuseppe Sarto spiritual Father of the seminary, episcopal chancellor and canon in Treviso in a photo during the school year 1875-76, with the bishop Father Zinelli, behind Father Pietro Jacuzzi, the chaplain in Riese who started him off on the priesthood and who was a professor and the rector of the seminary in Treviso.
---
Index - 1 - 2 - 3 - 4 - 5 - 6 - 7 - 8 - 9
Last update: 21.06.2009